The Power of Image and Audio.
In this article, I'm going to tell you more about the power of Image and Sound.
There is also a sort of TEST to follow, which is fun, more on this later. So here we go.
Approached a little scientific way, you can say that Images are: something seeing, concerning the eyes.
Few people give it much attention, but the Sound is always and everywhere, for instance:
– The annoying sound of the alarm clock
– The sound of traffic.
– The beautiful sound of birds
– A soft voice
– The cry of Tarzan
Audio Combined with Visual
Audio-visual media are ideally suited to getting a message across convincingly and with a great deal of feeling.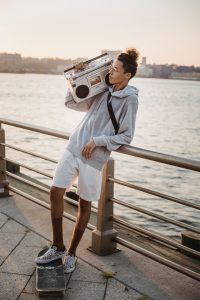 The 5 reasons for the powerful combination of images and sound.
Here they are:
1. Research has shown that the combination of images and sound ensures that the information is remembered much better than if you only use words.

2. No other medium can simultaneously, motivate, emotionalize and even influence masses of people so quickly and in such a short time!

3. Try it out and you will find that moving images with sound always attract more attention. Moving images with sound are Eye-Catchers.

4. The viewer is lazy by nature, for the combination of images and sound, the viewer needs to put very little effort into the presented knowledge. Turning the page of a book is more difficult.

5. How often do you use the words "I don't believe it until I see it" yourself?
In other words, the combination of images and sound simply means
"Seeing is Believing".
The Dutch Amusement Park the Efteling
Hey Marcel…What the heck on earth has the Efteling got to do with this article? I don't know even this name!
Don't worry…. keep on reading and you'll start to understand why.
The Efteling is a Dutch theme park near the North Brabant village of Kaatsheuvel(This is roughly in the middle of the Netherlands). The Efteling is the largest (and one of the most famous) amusement parks in the Netherlands and the third-largest amusement park in Europe. Only the French Disneyland Paris and the German Europa-Park are better visited.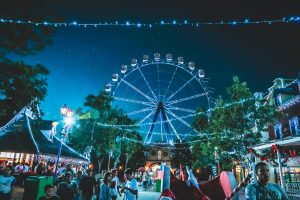 I live about 80 kilometers from The Efteling, so you will understand that when I was young I traveled there regularly with my parents and after that with my wife and 2 children.
One of the Efteling attractions is called the "Carnival Festival". Carnival Festival (or "Carnaval Festival" in Dutch) is a Dark Ride.
The TEST that I mentioned at the beginning of this article is coming soon but first I would like to explain what kind of attraction it is so that you can better understand what it is all about,…Oh yes, there is a good chance that one of the countries in the attraction you are about to see is the one you live in…so that's fun already.
Explanation of "The Dark Ride"
The ride passes through 9 different regions, each represented by typical scenes and variations on the music.
Netherlands
The first land the ride passes through is the Netherlands. Scenes of singing frogs, birds, fishermen, tulips, wooden shoes, and farmers represent the Dutch cultural icons.
Belgium, Monaco, and France
After a short scene of Belgium the rides jumps from the Mediterranean to Paris, portrayed by can-can dancers in front of the Moulin Rouge. (The can-can is a high-energy, physically demanding dance that became a popular music-hall dance in the 1840s, continuing in popularity in French cabaret to this day).
United Kingdom
Next in line is the British capital, London. Scenes here show the Underground, Buckingham Palace, and the changing of the guard. The Scottish Highlands are also present.
Germany and the Alps
This region is represented by Oktoberfest, where everybody is happily drinking beer, including a group of monks. Alpine mountain scenes conclude this part.
Italy
Here we see Venice, Pisa, and a reference to Rome's imperial history.
Japan and China
This scene opens with a tunnel decorated with Japanese Noh stage masks, followed by Geisha women, Sumo wrestling, and a Chinese Shadow Play. China is portrayed by a large scene with a dragon.
The Arctic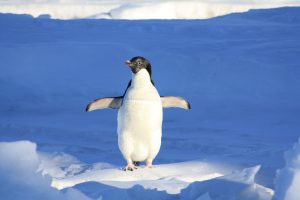 This scene is of an icy world filled with Igloos and Inuit and many penguin-sized, snowman-like creatures. After this scene, riders pass through a tunnel where many of these creatures stare down through holes in the ceiling.
Africa
Large trees appear with a giant monkey, and traditional African people are playing drums.
Mexico and Hawaii
Little donkeys transport Mexicans with sombreros, maracas, guitars, and trumpets. Hawaiian Hula girls bid us a farewell.
The Music
For Carnival Festival, Efteling commissioned its first original soundtrack, which was composed by the Dutchman Toon Hermans, and arranged and produced by another dutch guy named Ruud Bos. Each of the ride's scenes features its variation on the theme music.
So now here's the TEST……do me a favor,… take a break, sit back, look, listen and enjoy the video below. After watching then experience what has happened to your mind. It only lasts 8.39 minutes. 8.39 minutes you won't soon forget, and it's fun…so go for it!

So what happens to your mind after these 8.39 minutes. I dare to guess. I almost dare to guarantee(if you watched the entire 8.39 minutes video) that you will be humming the extremely happy positive-sounding tune….Ta…Tatataaa…Tatataa etc. all day or maybe even a few days, or at least it will stick in your head. It also gives you a good positive feeling, it makes you happy.
See that's exactly what I mean by the power of the combination of image and sound. This "Carnival Festival" attraction has been there since 1984, essentially nothing has changed and it is still very, very popular with the public.
So now back to the Internet Marketing business because after all, it can't always be a party..lol.
All you have to do is follow THE authority on Internet marketing John Thornhill. What does he do??….of course John makes optimal AND consistent use of the positive power of the combination: Words, Images, AND Sound.
This is exactly what John Thornhill is going to teach you to perfection in his
60-Day Partnership to Success program.
So be smart and choose today definitively for the ultimate road to total financial freedom by clicking on this BUTTON.
I hope you enjoyed my article and by all means, let me know if you are still Humming the tune "Carnival Festival" Ta…Tatataaa…Tatataaa…Tatata.
(By the way, don't forget…to be consistent in your actions, it's one of the keys to success)
Kind Regards,
P.S
Oh yes…… you've already been made particularly happy by the tune but if you click now on "Carnival Festival" you'll be doubly happy,…I dare to guarantee it!