My Big Four
Today I'm going to introduce you to My Big Four in the Internet Marketing Industry. They have now become my mentors and friends and I am happy to tell you how this came about. If you want to succeed in your online business these are My Big Four that you need to be introduced to.
Here we go:
1. John Thornhill
2. Randy Smith
3. Steven Alvey
4. Omar Martin
(Plus 1)??? Of course, the BIG question is what that means. I'll tell you later in this article.

At the end of 2002, he discovered eBay and he started looking for ways to make money from online auctions.
Fast forward to December 2004, he was casually browsing eBay and I came across a collection of eBooks with resale rights on a CD. He bought the CD out of curiosity more than anything else and when it arrived he checked it out. That was his first experience with 'Info Products' and he decided that he would have a go at selling his first eBook collection.
Things really started to happen when he decided to sell each eBook individually for a few dollars and deliver them electronically, this was a huge success and he quickly found he was earning $1000 per week from eBook sales alone.
The best part was that he learned to automate the whole process and he noticed no one else seemed to be doing this. Almost by complete fluke, he had developed his own system and it worked well …… very very well.
This was that he decided to teach others how to copy his business and finally results in his very professional Partnership to Succes Program.
You can read the full "John Thornhill Story" on his blog: https://www.johnthornhill.com/blog/about/
With John, it all started. John Thornhill is the founder of the Partnership to Success Program. This program has produced many, many success stories.
It has provided many former students with a 6-7 figure income and in addition for many a life full of freedom and happiness and not to forget friendships for life.
John Thornhill is now an authority on Internet marketing, he has been the 1% top Clickbank, JVZoo, and Warrior seller for many years. If you are looking for a coach who is going to bring you personal success then click HERE.


Randy Smith had already been dabbling on the internet to make money online for a few years with very little success.
Luckily for him, around 2006, he found a great coach/mentor(you can guess who this is) and was earning enough to pay his bills just as his previous fortunes & things were taken due to bankruptcy.
From 06 onwards he built sites, created products, had some great launches that lead to some equally great partnerships and enough income to fund his new laid-back camping and outdoor lifestyle. Rekindling childhood passions, but with a little more luxury thrown in.
Randy Smith is THE email marketing specialist. The result of the Partnership to Success program has caused him to have great success with his launches. He knows better than anyone how to build a Buyers List instead of a FreeBee list.
The conversion rate of his email marketing activities is exceptionally high.
You can read the full "Randy Smith Story" on his blog: https://randolfsmith.com/about/

Steven Alvey is the founder of Warlord Entrepreneur. He is one of the most successful students of John Thornhill. After he joined the Partnership to Success program, guess what happened?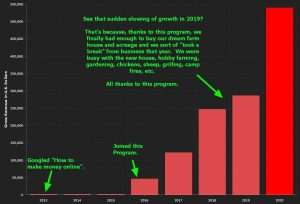 As you can see on the image above since he joined the program his company has grown literally from Zero into a Six-Seven Figure Online Business with thousands of customers, clients, affiliates, and partners all over the world.
After leaving his full-time job in the Air Force in 2016 and a few scary and difficult months, he finally launched(as a result of the Partnership to Success Program) his first digital product.
It was a software tool for lead generation, called Warlord Optin. To his surprise, it made a huge splash in the industry and set a new standard for lead generation quality.
Steven Alvey has made Online Marketing a professional science. He is frequently asked by international companies to give lectures to share his knowledge.
You can read the full "Steven Alvey Story" on his blog:https://warlord.io/about/
Omar Martin and his wife Melinda are the founders of Higher Level Strategies(HLS) in 2009.
HLS understands the inherent challenges associated in, launching a startup, or rebooting an established business. Both of these endeavors can be time-consuming, frustrating, and even costly when attempted alone. HLS specializes in providing the self-determined individual with the proper knowledge, resources, and guidance to help those "steadfast in desire" to be successful in practicing business online.
Omar Martin joined the Partnership of Success Program. In his first week after joining he sent John Thornhill this message: "Hello John, I will become your Best Student Ever". He could not know this in advance, however, he followed his intuition!  
Guess what happened? Yes, he became the best student ever!
As a result of joining the Partnership of Success Program, Omar Martin and his wife Melinda owned and operated since 2009 his Higher Level Strategies company and they've built it into a multi-million dollar business.
You can read the full "Omar and Melinda Story" on their blog: https://higherlevelstrategies.com/about-us/
So these are My Big Four!
Randy Smith, Steven Alvey, and Omar Martin all followed John Thornhill's program and as a result, they are now celebrating Great Success as Internet Marketers. They do this in their own authentic way. A way that suits them perfectly.
That's also the beauty of it. You can apply this Partnership to Success Program in such a way that it works for you like a Custom-Made Suit.

(Plus 1)….Marcel van de Kerkhof…Wow That's Me!

As a Partnership to Success student, I follow the program with Dedication, Passion, and a Lot of Fun. As a student, I am automatically a member of the active private Facebook group where you can share knowledge with all current and former students.
So in addition to coaching the former students also help you with great pleasure to bring you to the successful level where they now find themselves. As I described earlier in this article, I have gained several mentors for free by continuing to contact former students.
Therefore, I now have the Guts to say that great success because of Partnership to Success is at my feet and that in some time, I am going to write an article titled:
"My Big 5"
Guess who that number 5 is going to be?
My Conclusion:
First of all, thank you very much for reading my article to the end and I can't help but my very own conclusion is that if you want to get rid of your 9 to 5 job, it's Now Time for ACTION so please click HERE.
Regards,
P.S.
Oh, and By The Way, if you have any questions or ideas I would love it when you reply!
P.S.S
I forgot to mention, DO NOT click on the image below if you really like your 9-5 job!